Bean bag chairs have always been such a biggest hit. These are the most comfortably designed chairs that make your rest, nap, sleep, or read time enjoyable. But what to do when it gets extremely dirty? Obviously, you have to clean it thoroughly.
Here you can see the details on how to clean bean bag chairs. You can achieve the best results by first doing a spot cleaning and then scrubbing the filthy patches with a soft-bristled brush. For more details on the cleaning guide, you can check out the below-written details:
Cleaning the bean bag chair in a washing machine
Remember that cotton and polyester-made bean bag chair covers are machine-washable.
The first step is to unzip the cover.
You need to pre-soak the cover for around and about 5 to 10 minutes. This can be done by taking a bucket filled with cold water. Add liquid stain remover, or you can use baking soda.
Once the pre-soaking time is done, run the washing machine on a delicate cycle. Add warm or cold water to a washing machine; the choice is yours, and add a little detergent too.
Hang the bean bag chair cover to dry.
The drying time will be 2 hours, so remain patient.
That is all; your dirty bean bag chair cover has become brand-new.
How to clean suede bean bag chair cover?
Firstly, you must remove dirty patches from the cover using a damp terry towel. If you notice that stains are still not coming out, the other alternative is to prepare a cleaning solution using one part of vinegar and two parts of water.
Rub the solution in a circular motion with the help of a metal suede brush.
Keep on rubbing until the stained patch comes off. Let it air-dry.
Use a water-resistant protective spray to keep the bean bag chair cover last long.
How to clean vinyl bean bag cover?
Here you have to make a paste comprising warm water and baking soda.
Dab the paste onto the spot and scrub with a soft bristle brush.
Make sure to keep on scrubbing the spot until it is completely gone.
Afterwards, wipe the excessive paste with a soft damp cloth.
You are done!
How to clean plush bean bag cover?
The very first and foremost step is to remove dust with the help of a dry paper towel.
Vacuum it via brush attachment and use a soft bristle hairbrush to remove crusty stains embedded into the bean bag chair cover.
You can skip cleaning the chair with soap and water if it does not look much dirty.
Seek Professional Cleaning Service
If the above-mentioned cleaning methods are tough to follow, you can seek professional cleaning services then! Call a professional and ask him to clean your bean bag. He can give you sound advice on other ways to make your bean bag last long.
Household items to clean bean bags
There are some household items which you can utilize to remove stains, especially wine stains from bean bags:
You can remove wine stains with baking soda.
You can even use club soda if the wine spot looks excessively stubborn.
Experts have recommended using vinegar to remove minor wine stains.
To remove oil stains, use a paper towel and blot up the oil. Then sprinkle the powder on the stained area and wait for around and about 15 minutes.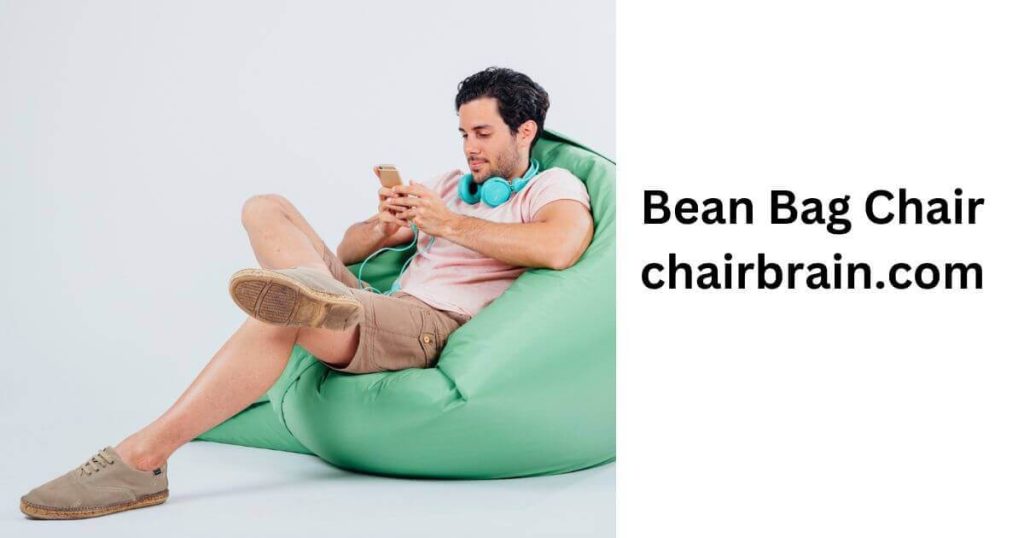 How to maintain and clean outdoor bean bag chair covers?
We know that bean bag chairs accumulate a lot of dust and dirt when placed outdoors. They need regular cleaning and maintenance because frequent exposure to harsh weather conditions, extreme temperatures, and moisture makes the chair quickly dirty.
The vital tip to remember is to store it in a proper place when not using a bean bag chair outdoors. Instead of keeping it outside for days and days and making it negatively affected by chemical and land pollutants, it is better to store it inside.
Though bean bags remain water-resistant, they can be used by people in sub-tropical climates. But mould and mildew growth will likely be there if they are continuously exposed to humidity and moisture. Thus, store your bean bag in a dry place.
When placed unnecessarily outdoors, the color of bean bag covers might fade. Though they are made of fade-resistant materials, you still have to take the best care of them. Avoid exposing bean bags to the sun and keep them inside when not in use.
Tips for maintaining the bean bag shape
Never use a bean bag for a pillow fight.
Jumping on them will ultimately push them to lose their shape.
Keep keys, knives and pens away from bean bags. They are the common culprits for damaging hand-crafted fabric.
Regularly cleaning the bean bags keep them in perfect shape.
Giving your bean bags a quick shake is recommended now and then.
Keep the bean bag as dry as possible. If its fabric becomes sweaty, there is a chance its original shape will get distorted.
Never iron your bean bag. This will ruin its look.
Putting your bean bag in a swimming pool is not at all suggested. You can rubber ring as it is assumed to be a floatation device.
Conclusion
Now you know how to clean bean bag chairs! No wonder these are the best, most comfy designed and stylish chairs you can use indoors or outdoors. Adults use them for napping and reading purposes. Kids utilize these bean bags for playing games.
If you have a bunch of bean bags and have not cleaned them for weeks and weeks, it's time to perform the cleaning routine right now. You can follow the above-written guide and return the brand-new look to your bean bag chairs. Stay tuned!