The office chair is one of the most frequently used items in today's world. It doesn't matter if you are doing a 9 to 5 job or running a private company; you own an office chair on which you make the most impactful decisions related to your finances. The daily usage of office chairs makes them more prone to the action of allergens and germs. So much so that office chairs are known as the 'hotbed of germs' or 'house of allergens.' This makes it mandatory for you to learn how to clean an office chair.
If you don't know how to clean an office chair and you keep on using the same chair for months without any maintenance, then you are more likely to get infected. Infection of any kind will exert a negative impact on your productivity, which will directly affect your monthly revenue. Surely, you don't want your finances to suffer. For that, you need to stay connected to this article.
This article will inform you about the ways by which you can clean your office chair and make it a cozy and comfy part of your journey! With this, let's learn details about the cleaning method!
How to Clean an Office Chair? A Simple Method for Beginners
Office chairs come with a lot of crannies and nooks where hair, food particles, dust particles, germs, and other allergens can accumulate. Their accumulation increases the risk of infections. This is why you must know the cleaning method by yourself instead of relying on others. The best thing is that every office chair from a reputed brand comes with cleaning instructions that are either available on the manufacturer's website or connected to the chair.
For cleaning an office chair, you will need the following supplies: a spray bottle, alcohol, a hand vacuum, and a duster. After collecting these accessories, look for the tag attached to the underside of the seat. This tag contains a cleaning code. The cleaning code will suggest to you the cleaning agent that would be best for your chair. For instance, some chairs can only be treated with dry-cleaning solvents, while others need water-based agents. Look for the need of your chair and then move to the next step.
Office chairs are usually made of the following materials: vinyl, leather, polyurethane, or plastic mesh. The best part is these materials are easy to clean if you have access to a vacuum cleaner, dishwashing soap, a spray bottle, a small bowl, or a duster. Mostly, cordless stick vacuums or handheld vacuums are used for cleaning the chairs as these vacuums don't take much of your time. In most cases, these vacuums have attachments that are primarily designed to remove allergens or dust particles from the upholstery.
Dishwashing soap of any kind will clean the chair like nothing else. Dishwashing liquids are usually added in drops to lukewarm water and stirred until a cloudy solution is formed. With the help of a soft cloth or cotton t-shirt, the solution is spread on the chair gently. After that, let it air dry. Most people use a duster for cleaning the parts of the chair that are too tight for vacuum. If you can sense that stains are large, you can use vinegar, alcohol, or laundry detergent instead of dishwashing liquid.
How Often Should You Clean an Office Chair?
The office chair needs regular maintenance. Daily, you need to make sure that you instantly clean up stains or spills by rubbing them with a water-and-soap solution. This will prevent strain from becoming deep and permanent. If stains are already deep, you will have to use alcohol or laundry detergent for cleaning them. This regular maintenance takes no less than 5 minutes. After rubbing, you will need around 10 minutes to let it air dry. Air drying is important as it provides your chair with a chance to freshen up and get rid of germs and dust particles.
For deep cleaning, you might have to invest between 30 to 45 minutes. If you use a handheld vacuum for cleaning the chair, you will need 15 to 25 minutes, depending on the kind of cleaning your chair needs. Whenever you clean the chair with the solution, make sure you calculate its amount perfectly. Otherwise, the chair will absorb the solution, which will cause the inner material to be damaged.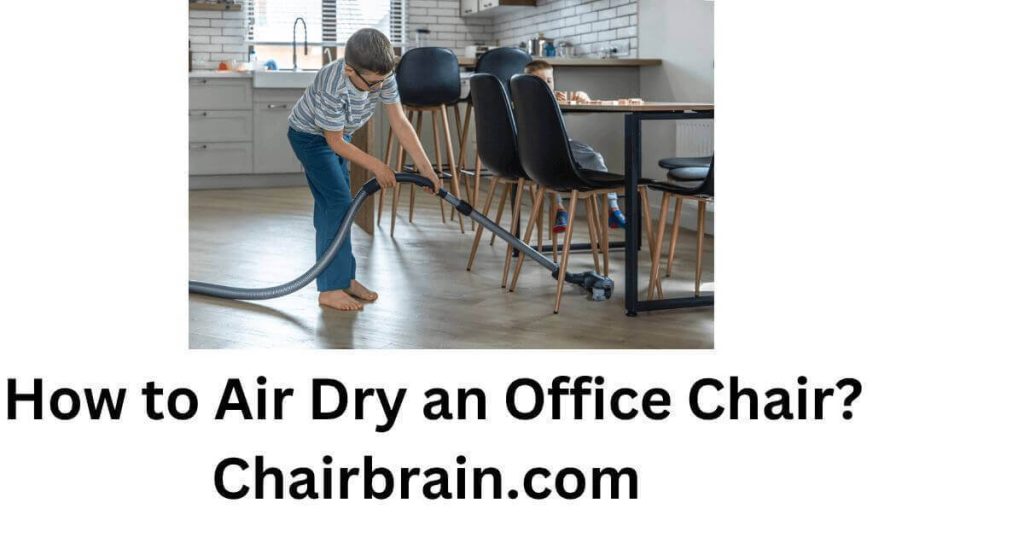 How to Air Dry an Office Chair?
For drying the chair, you need two clothes. First of all, dampen one cloth with clean water and spread it over the chair's surface to get rid of soap residues. After that, use the second cloth to dry hard surfaces like the legs of the chair, armrests, or seat coverings. Then, allow the parts to dry. If you don't have enough time, you can use a hair dryer to absorb moisture from the surface of the chair.
How to Clean an Office Chair – Final Statement
Office chairs are frequently used chairs, which is why they become an easy target for the accumulation of dust and dirt particles. Their accumulation increases the risks of infection. This is why it is always good to know when and how to clean an office chair.
If stains are not deep, you can rub them with a solution of water and soap. If spots are deep, you will have to clean them with alcohol or other cleaning agents. If these agents don't work for you, you can switch to an alcohol-based cleaner. To find out which of these treatments will work for you, you can start with a small area. Apply the solution to a smaller area and let it dry. Testing is also important to ensure that the solution is not harmful to the fabric.
Hopefully, these tips and tricks will benefit you in real life. For a detailed description, you can reach out to us!