Introduction: How to Make Chair Slip Covers
Making chair slipcovers has become a favorite hobby these days. There is no need to ask the tailor for stitching chair or sofa covers. You can perform this stitching activity on your own. The below-written step-by-step guide will tell you how to make chair slipcovers like a pro.
Once you get enough practice, you can start making covers with different patterns and more creative styles for your chairs and sofa sets. Purchasing chair covers have always been very expensive. The overall cost becomes so high when you have to get new covers for the entire chair set.
Fortunately, with little money, you can stitch them at home. Some people prefer using pillowcases for covering the dining room chair backs and also seats. Those who are perfect in stitching will see no hassle in making fancy chair covers or custom one-piece slipcovers for the armchairs.
So, let us see the details and learn which resources and equipment are needed:
Items need to make chair covers
You need a sewing machine, scissors, fabric, thread and straight pins. Now, you can read out the step-by-step guide that explains the process of stitching chair slipcovers in a beginner-friendly manner:
Step 1
Take your chair measurements; this way, you can know how much fabric is going to be used and needed to be cut. Measure from your chair's bottom and back side and then go up. Furthermore, measure each side "L" piece.
Step 2
The next step is to choose the fabric, and it is always recommended to pick a heavy-duty upholstery fabric. Such a fabric retains its shape perfectly and withstands wear and tear and excessive use. Once you are done picking the fabric type, match the thread as well.
Step 3
You can now start making a pattern. If you are a beginner and it is your first time making a chair cover, then it is completely fine even if your pattern looks simple and not so unique. With time, you can learn how to make great and eye-catchy patterns.
Mark the measurements on the fabric's backside with a pencil or chalk. In addition, line up all the designs you have made in your pattern. Lining up the designs will make it easy for you to get them to meet at the seams.
Step 4
The next step is the fabric-cutting part! Cut out the pieces and leave an inch around every edge. This is an important step as it will ensure seam allowance.
Step 5
You can now fit as well as pin the pattern. Lay the fabric in an upside-down direction on the chair. Grab some straight pins and pin them up on the fabric pieces that you have laid on the edges of the chair. Keep the pins as much close to the chair as you can. In this way, you get the perfect and tight fit.
Step 6
Start sewing all the fabric pieces together. Get a sewing machine and stitch the whole line that you have created with the help of pins. Pull out the pins before you make a stitch.
Step 7
Once you have sewed, fit and adjust the cover by trying it onto the chair. If you think some corners seem very tight or loose, you can re-stitch them. Making minor adjustments will give the cover a perfect fit.
Step 8
When you have achieved the desired fitting, you can hem and trim it. Fold the fabric inside twice and make a smooth stitch along the bottom.
That is all; you can put the cover on the chair. If extra fabric comes out, tuck it at the bottom of the seat and make sure to straighten everything out.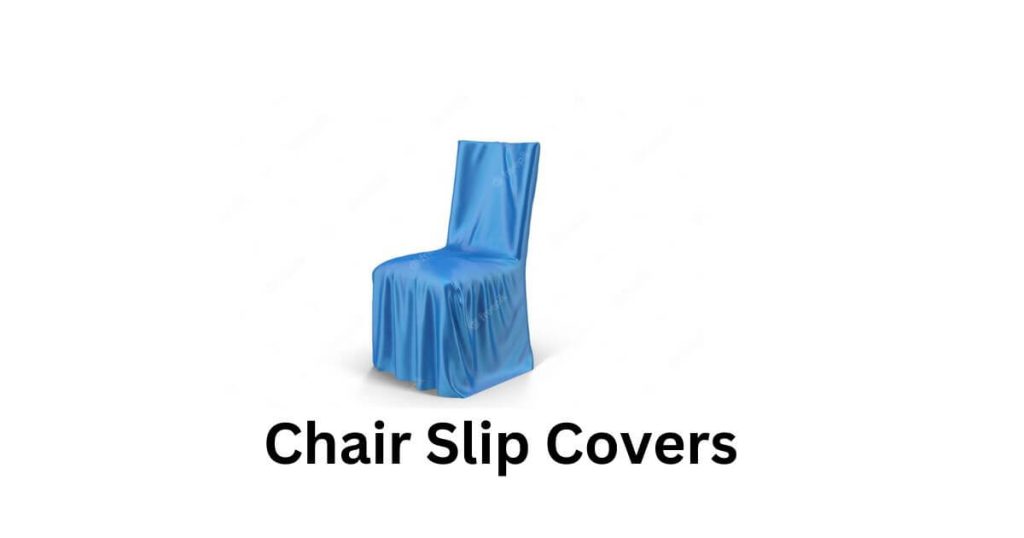 Tips to keep in mind
Below you can keep in mind some of the great tips to make chair clip covers at home. Apart from following the method mentioned earlier, please follow these tips and hacks and bring more perfection to the chair cover stitching process. If you follow some other effective hacks, share that with us too:
You can make the chair cover fit perfectly and smoothly by tucking the unwanted fabric, securing it with pool noodles, using the foam rolls, using Velcro strips or upholstery pins or trying infusing additional stuffing.
The best fabric for making chair covers include cotton duck, canvas, medium-weight denim and twill blend. They seem to be the great and durable fabric options so far. These fabrics let you switch the covers for sofa sets and chairs easily. Furthermore, washing these fabrics is not a problem.
To keep the loose covers in their place, it is advised to add Velcro pieces right in the middle and edges of the chair. On opting for this hack, the fabric which is very thin will not slip in any case.
Other ways to secure the chair slipcovers include inserting grips between the chair arms and cushion crevices.
Look for fabric that is breathable and stretchable. This will give you easy stitching time, and no trouble will come across.
You can browse online and look for easier ways to stitch chair slipcovers. Some covers have embellishments and applique on them; they can be made at home. Sooner, we will share a tutorial about them.
Conclusion
Thus, that is how you can easily and accurately make chair slipcovers. The whole process is easy and breezy enough to follow. If your home chair covers have become old, boring and outdated, you can change those covers right now. Stitch them on your own and save a lot of money.
You can keep in touch with us and more tips and quick solutions on making chair slipcovers will be posted on this platform. Feel free to share the pictures and experience if you stich the chair cover.