Introduction: How to Hang a Hammock Chair
Hammock chairs are simply to die for! They absolutely look so stunning and appealing. Relaxing on them gives a feel as if you have stepped into some heaven place. These chairs are available in an assortment of colors, styles, and designs. On this web page, you can learn the proper way to hang a hammock hair. You can install it indoors or outdoors; the decision is completely up to you.
Remember that you carefully drill holes when hanging this chair in a room and have opted for the wall ceiling spot. On the other hand, if you feel like placing it in your front yard or backyard, secure the chair with a rope and tie it with a sturdy tree branch. We will be discussing more about how to hang a hammock chair in this post
What is a hammock chair?
Giving you a general idea, this chair is specifically engineered for relaxing and napping. It is made of soft, durable fabric surrounded by a pod-like roundness. Here you can relax for endless hours without hurting your back or neck. You will feel as if you are floating in mid-air; yes, it is true!
No doubt, it has come out as a unique source of comfort. It belongs to the swinging chair category and looks extremely versatile. You can hang it with a tree branch or living room ceiling, and there are other installation methods you can trouble-freely follow.
Thus, the trend of using these chairs has gone terrifically high. Whether you keep them in your room, front yard, or back yard, a fun, and cool vibe will be experienced. Besides, it syncs with all décor pieces and spaces. Its design is extremely portable. You can carry it hassle-free from your room to the front yard or vice versa.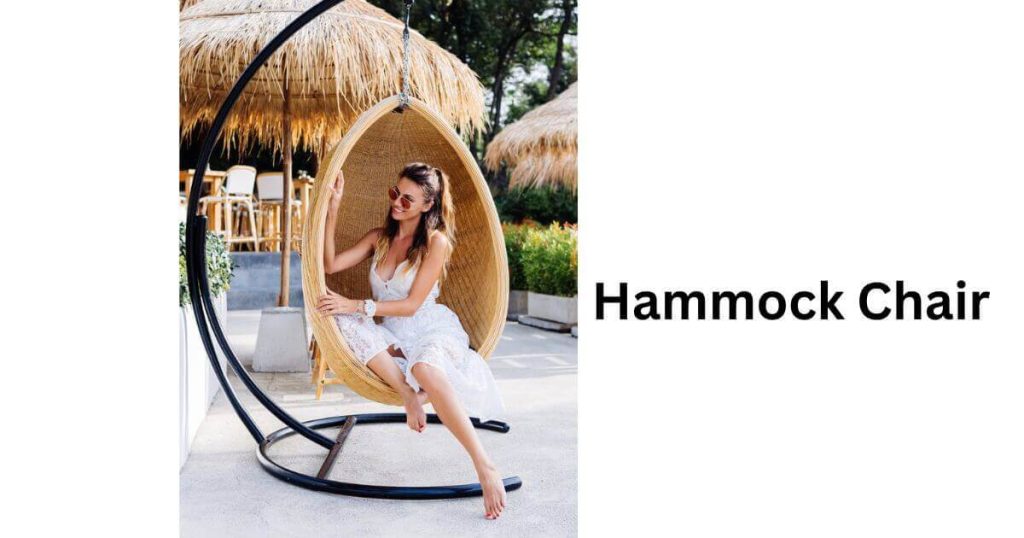 Hang a hammock chair on the wall ceiling
The wall ceiling is one of the securest methods to hang a hammock chair. Below you can see how this process is carried out:
You need drill and drill bits, stud finder, screwdriver, 1S hook, stainless steel ceiling mount, spring snap hooks, expansion bolts, and stainless steel chain.
The first step is looking for a sturdy wall ceiling beam. This step is performed with the help of a stud finder. Use a pencil for marking both sides. Furthermore, drilling directly into the ceiling and the joist's middle is recommended. If you have a concrete wall, you can skip this step surely.
Draw the holes location where you want to mount the hammock chair.
Now, you need to drill four pilot holes.
Install the ceiling mount, and this step can be carried out using four bolts of screws. It is strongly suggested to use a ceiling mount and avoid using an eye hook. The former option provides more strength and keeps the anchor points firm enough on the ceiling.
Attach the spring hook right to the ceiling mount and install the chain. You can adjust the chain depending on how much height you desire.
Attach the other spring hook to the chain's other end.
You can now hang the hammock chair.
Bonus tip
It remains recommended to test the installation process. This will assure you that the chair will not fall if you sit on it. While testing, shift your weight meanwhile sitting on the chair. If the chair manages to hold that weight and does not show uneasiness, it means you have correctly installed it on the ceiling. Moreover, keep the hammock chair three to five feet away from the floor.
Hanging a hammock chair with a tree branch
How about hanging a hammock chair with a big and sturdy branch? Yes, you can do that! You do not need to drill holes in this method. Only rope is needed, that is all. Most importantly, you must have a 7 to 15 feet rope for properly securing and installing the chair with the tree branch.
First of all, look for a mature tree; it can be a hardwood tree. Experts have recommended attaching the hammock chair with tree species like oak, beech, and ash tree. These trees have thicker branches. Rest; choose a tree branch that is 6 to 8 inches thick and 6 to 8 feet above ground level.
Once you have chosen the tree, start looping the rope around the tree. Make sure that t you loop the rope two times. In doing so, two hanging points will be created, and the weight will remain evenly distributed.
The next step is to thread the rope all through the ends of the chair loop.
Slide the loop in an upward direction and keep the rope as tightly as possible.
Finish the process by making two half-inch knots below the tree branch.
If you think you cannot make tight knots, you can get a set of hammock tree straps. Or you can also get the kit which is specifically meant for hanging hammock chairs. Tree straps have loops already attached to them. You can easily loop them around the tree branch without witnessing any problems.
That is all! You have successfully hung the hammock chair with the tree.
Bonus tip:
Experts have strongly suggested looking for a rope that can conveniently hold at least 1000 lbs. If its weight-bearing capacity is less, then there is a chance that a heavyweight person will fall off the chair.
Conclusion
Thus, that is how you can mount a hammock onto the wall ceiling or hang it with a tree branch. No wonder it seems to be one of the amazing swing chair types you should try. These days, almost every home has this chair. Whether for reading, napping, or relaxing, a hammock chair serves multifunctional uses. You can share with us how you hang a chair. If you follow some other mounting method, let us know about that.