Introduction: how to fix a squeaky chair
Be it in your office or chair; squeaky chairs are troublesome to use and come out as the biggest nuisance. So, what to do then? You can get rid of chairs that produce unwanted noise. High-pitched and rusty chairs are so useless.
Here you can check out quick solutions on how to fix a squeaky chair. Firstly, you must identify the causes of why this problem is happening and then go on implementing and executing the solutions. Let's discuss further!
Solutions to fix a squeaky chair
You must first find out the exact source of why your chair is producing unwanted high-pitched and shrill noise. The possible sources can be, its joints need lubrication and screws have become loose. Furthermore, carefully listen to where the sound is actually coming from. Avoid making blind guesses. You need to inspect your chair correctly; only then you can execute the right solution.
Tools needed to get rid of squeaky chairs
You need a screwdriver, metal hammer, nails, rubber mallet, drill, lubricant, bolt remover bits, and heavy-duty construction adhesive.
Solution 1: Tighten Loose Screws, Nuts, and Bolts
Chairs make unnecessary shrill and high-pitched noises when their screws, nuts, and bolts have become extremely loose. So, the possible solution is to tighten every loose screw and bolt of your squeaky chair.
Get a screwdriver and tighten them as hard as you can. Inspect each screw using your fingers. It is not recommended to tighten them with your hands. For a long-term fix, you must use a screwdriver. You can also use a crescent wrench. Once you are done, test the chair and see whether it is still making that rusty noise or not.
Solution 2: Clean the rusted parts
Squeaky chairs and unwanted sharp sounds go hand in hand when its parts have become rusted. The appropriate and workable solution is to clean those corroded parts, or you can replace them.
Metal parts surrounded by corrosion and rust produce annoying sounds; the same is true with squeaky chairs. The minute you spot rust on your chair, clean it up as soon as possible by preparing a solution of white vinegar, or you can also make a carbonated solution.
Solution 3: Oil the joints of your chair
Oiling the joints of your creaky chair will help you get rid of this problem. If the joints are not properly oiled and lubricated, annoying and troublesome sounds will continue being produced! So, grease the moving mechanism of your chair and lubricate it with good-quality oil. Oiling nuts, bolts, and screws will reduce friction and loosen the joints.
Solution 4: Fix the springs
Squeaky chairs are problematic to spot, whether they are in the home or office. Remember that if their spring ends are rubbing against the housing ends, the chair will make the most annoying and high-pitched sounds. The suggested solution is to fix the springs. Apply oil properly to the seat tension spring. Just loosen the seat tension, detach it, and spray oil.
Solution 5: Lubricate the wheels
At times, chairs produce frustrating and irritating sounds if you have not lubricated their wheels for weeks and weeks. Metal parts of wheels generally wear and tear. They tend to become loose and push wheel axles to shrill and squeak from friction. When oiling the wheels, it is better to flip the chair in an upside-down direction, detach the wheels and oil them properly.
Solution 6: Applying glue on every loose joint
Loose joints of chairs make them rusty and shrilling. The quick solution is to apply glue on every loose joint. Many glue products are available in the market specifically intended to fix squeaky chairs. Just apply them to the chair's joints, and you are good to go!
Solution 7: Replace the Nails and Wooden Joint Plugs
Another solution is to replace the nails and wooden joint plugs if your chair generates unwanted and irritating sounds. Replacing them remains a must if your chair hardware has become highly loose or out of shape! You can add new parts, remove the damaged hardware or reinforce them with more nails.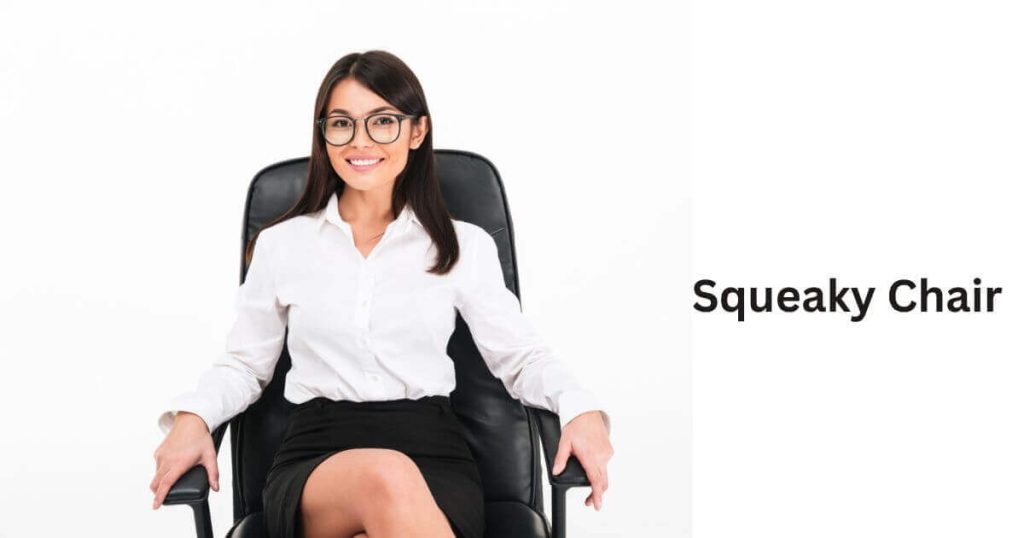 Causes of a chair squeaking
· Loose screws and bolts push the chair to generate frustrating sounds.
· Rusty nuts and bolts cause metallic chairs to become squeaky. The minute you spot that any of your chair parts have become rusty in color, you must oil it to clean and remove the rust.
· Chairs kept in a humid place often become noisy. Their bolts and nuts accumulate maximum rust on them and produce unwanted maddening sounds.
· The issue with the chair's springs, as well as the wheel's axles, might lead to this problem. Generally, rusty wheels and springs are one of the primary causes of having problematic chairs.
· Moreover, loosened legs cause chairs to be shrill, produce sharp sounds, and squeak unnecessarily. It is all due to the loosened legs that chairs lose their stability. You can apply wood filler onto them, making their legs stable and steady.
· Lastly, broken parts push the chair to become creaky! If its leg is broken or the back or armrest section has become damaged, that chair will certainly make annoying and irritating sounds. The broken part is the most critical sign that your chair needs an immediate replacement.
Conclusion
Thus, those, as mentioned earlier, are the most effective solutions that help you get rid of and immediately fix squeaky chairs. Wrapping up! Rusted bolts, nuts and screws, loosened legs, broken parts, rusted wheels, and loosened joints push the chair to keep on producing unwanted and irksome sounds.
Identify the cause first of all and then work on a solution. You can let us know about other ways that how you fix these problematic chairs. Stay tuned with us on this webpage, and we can look for a permanent solution to get rid of high-pitch and shrill chairs.