Introduction To: SIHOO Ergonomic Office Chair Review
Let us jump directly onto the SIHOO Ergonomic Office Chair Review. It is a big brand and quality chairs are always made at their end. You can try out any of their chair versions. This respective model has 3-Way Armrests and 2-Way Lumbar Support system. It comprises Adjustable Headrest, high-back design, tilt function and mesh back.
For more than 10 years, this brand has been making remarkable quality chairs. Almost every chair manufactured by them is of premium quality, infused with breathable mesh, adjustable footrest and seems to be the best partner for standing and drafting desks. For more details on the SIHOO Ergonomic Office Chair review, you can check out the remaining section of this post:
Overview of SIHOO Ergonomic Office Chair
The SIHOO office chair has become the top pick for every single employee out there. Its functioning looks so genuine, comprises an ergonomic backrest, adjustable headrest and footrest and thick wide seat. Furthermore, it has a high-back design which is why the employee can comfortably work for multiple hours.
Full support is provided and every inch of your back, waist, legs and shoulders do not get tired. You can tilt its backrest back by tilting the locking knob and the recommended range is in between 90 to 120 degrees.
No restriction will be there while adjusting your posture. Sit like the way you want to and work conveniently. Besides, this SIHOO office chair has a unique designed headrest. You can fine-tune and regulate its positioning according to your seating demands.
You must bid good bye to the times when employees often complain of having sore backs and necks. Adjustable headrest, footrest and backrest features present in this chair make it a blessing for employees.
Same way, the seat is padded and you can tune its height. The seat is made of high-density and premium shaping foam. It is covered with a mesh fabric, keeps your legs and hips cool and reduce unwanted pressure. Other features are wide arc-shaped armrest, robust and heavy-duty base, 360-degree swivel wheels and easy set up process.
SIHOO Ergonomic Office Chair Review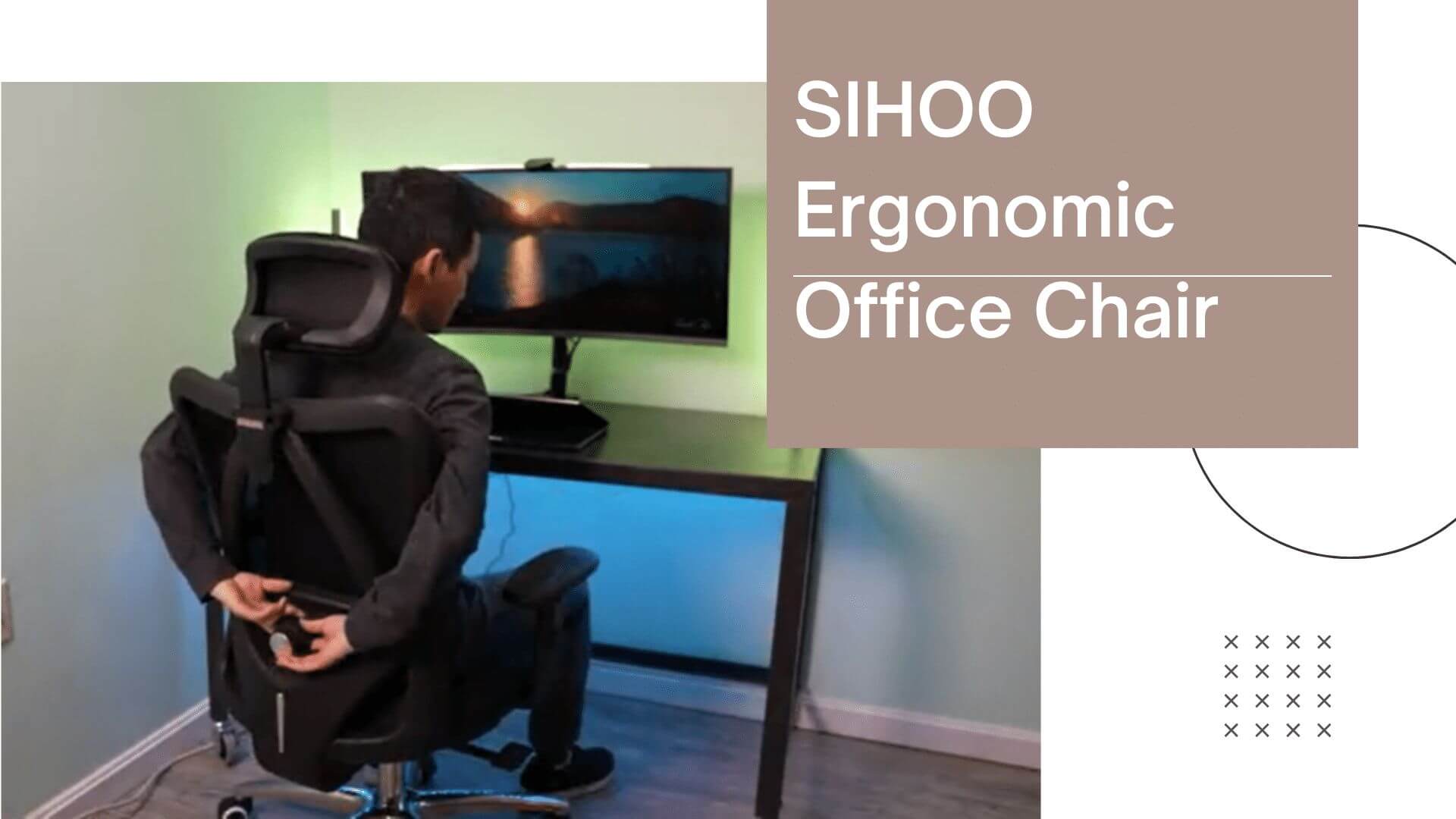 Key Specifications
Double back frame design
Lumbar support
2-way Seating
Flowy waterfall arc seating design
USP: 100% recommended by the Ergonomics Application Association
Features of SIHOO ergonomic office chair
Easy to assemble, robust and durable, adjustable headrest and armrest, gives ample support to back, legs and shoulders- yes, that is why the demand of SIHOO office chair has gone on the seventh cloud.
It shows heavy-duty construction and support maximum weight. Your body will be taken on the superior comfort level- all thanks to the SIHOO chair. Below we have highlighted important features of it, you can see the details:
Adjustable headrest and 3D armrests
First of all, this chair has an adjustable headrest. It allows your neck remain relaxed and can be tilted in any angle and direction you want to. Furthermore, adjustable lumbar support bracket lets you adjust the height depth.
3D adjustable armrests bring your body in the comfy position and you can tune the backrest angle from 90° to 126°. Thus, this chair can be brought and transformed into multiple work positions. You can do the 10 cm lift and rotate it 360 degrees.
It is recommended to read this detailed post
Recommended by the Ergonomics Application Association
The SIHOO office chair is officially approved by the Ergonomics Application Association. It is infused with the authentic ergonomic design, which is why it is praised by almost every renewed association.
Note that this chair is designed and conceptualized on the human body dynamic digital model. If we look closely at the ride backrest, you will notice that it looks exactly like the human spine.
On the other hand, the close fitting release maximum spinal pressure. Its seating design looks like a flow waterfall arc and promises to give enough thigh support.
Aluminum base and silent casters
It further comprises aluminum base and silent casters. Talking about the importance of injecting aluminum base, it can withstand maximum weight and bearing capacity looks satisfactory. Silent casters move the chair from one room to another without noise and the double back frame design makes the chair immensely durable and tougher.
Passed through rigorous testing
This reviewed chair has passed itself through the rigorous testing procedures. It has successfully cleared the cushion impact test and handrail fatigue test. Moreover, it has passed the chair foot static pressure test and meets every strict seating standard.
Pros
Adjustable headrest and lumbar support bracket
Recommended by the Ergonomics Application Association
Waterfall arc seating design
FAQs
Is mesh chair suitable for long hours?
Yes, mesh chairs are suitable for long hours. They are known for their durability, keeps the body cool, no sweat comes on your back and hips and you can work with ease and peace.
Is a chair with a headrest worth it?
Yes, a chair with a headrest is always worth it. Such chairs reduce pain which a person often experience while working for the longest hours. Your neck receives all-out support and protection and shoulders and back remain relaxed even if you sit and work for a long period of time.
Are mesh chairs better than foam?
Mesh chairs seems to be a better option than having foam chairs. It is believed that mesh chairs are more breathable and cooler than having foam/cushioned chairs. Cushioned chairs lack ergonomic adjustment options.
Conclusion
That is the end of the discussion about the SIHOO ergonomic office chair review. So, what have you decided now? Get this office chair and experience great sitting benefits out from it.
Reminding you again, it has 360° rolling wheels and soft PU material casters to freely move this chair on hardwood floors, carpets and mats. Overall, it looks durable and sturdy. More reviews on other SIHOO office chairs are coming up, so stay tuned.