We are here to discuss about SONGMICS Office Chair review in this post. Office persons work for long hours in office they sit more than 8 hours a day so office chairs are very important for them so office people become very choosy when it comes to chairs , therefore we have come up with this topic SONGMICS Office Chair REVIEW. It has become a mandatory practice for workstations to place good-quality ergonomic chairs. These chairs guarantee to boost productivity, let employees focus on their tasks and relieve pressure and unwanted heaviness from their back and shoulders. So, here we are with the SONGMICS Office Chair REVIEW. It is of great quality and available in an extra big size.
Rest, this chair has a high-back, fully ergonomic and modern design. It is an executive-styled chair with a thick seat, flip-up arms and a tilt function. This respective chair has fulfilled the safety standards and pledges to offer thorough and all-out comfort to employees. The rest of the details on this review are written below:
Overview of SONGMICS Office Chair Review
The exceptional quality office chairs have certain traits that make them stand out and set apart from other chairs. Like, high-end chairs have a five-star base, strong load-bearing capacity, silent PU wheels, and soft, padded, and flip-up armrests. All these qualities are spotted in the SONGMICS chair. The five-star base effortlessly and smoothly accommodates employees no matter how heavy their weights are.
Generally, the load-bearing potential offered by this chair is 330 lbs which is pretty impressive. Furthermore, the castor base has a diameter of 27.5" and keeps the chair ultra-steady, durable and balanced. Its wheels are surrounded with soft nylon so that smooth rolling time can be provided, and the floors stay damage free.
Rest, the SONGMICS chair is made of premium PU fabric. This fabric is effortless to clean, wear-resistant and shows High Tensile Strength. Employees will forget all their stress and tension the minute they sit on this chair. It has thickened padding and is packed with flip-up armrests. The armrests have been folded upwards, and they provide an extremely convenient use to the person to save space while putting them under the desk.
No doubt, this chair is designed in a way to give high elasticity and ease to the user. It does not deform; even the heaviest person sits on it for the longest time. Using PU castors brings less damage to the flooring and offers a mute effect. You can silently and quietly move the chair from one spot to another.
SONGMICS Office Chair REVIEW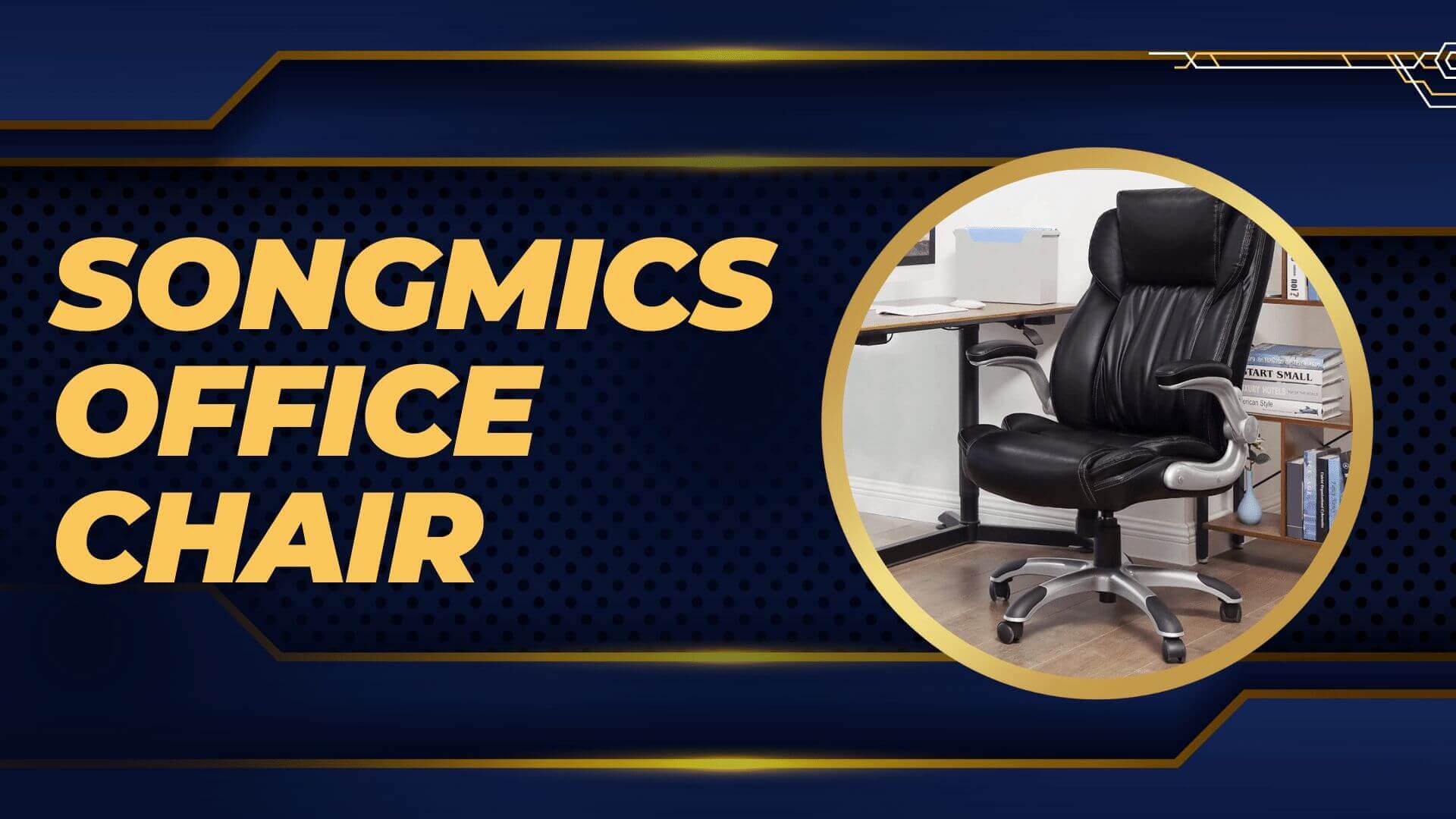 Key Specifications
Seat: Waterfall edge design
Flip-up design Arms
Special feature: Fully upholstered seat
Seat: Thick, durable and soft
Construction: Advanced and stable
USP: Allow multiple adjustments
Features of SONGMICS office chair
Below we have comprehensively explained what main features are present in the SONGMICS chair, so let us check out that information:
Ergonomic backrest and upholstered seat
The presence of an ergonomic backrest in this chair offers optimal comfort. It cradles your body in a way that you get a feel as if you are sitting on the softest couch. The backrest has been perfectly padded and has a built-in headrest to relax your neck and shoulders. Overall, this chair is luxuriously upholstered and comforts the whole sitting time for as many hours as you want.
Wide and large seat
Employees prefer having a chair that has a wide and large seat, and the SONGMICS chair is one of them. The front section of the seat comprises a waterfall edge and claims to offer additional support and thorough comfort to the legs.
Multiple adjustments
Adjustment options are multiple! You can fold the flip-up armrests upwards or downwards. The seat back can be reclined to 90 to 110-degree position. On the other hand, the seat height is adjustable from 16 1/2" to 19 5/8".
High durability and stability
This chair is a blend of high durability and stability. It has padded BIFMA standards and is surrounded with such important and valuable features like armrests, wheels and a gas lift.
They all remain tested and approved by the supplier, ensuring the highest stability. Its five-star castors have a diameter of 27 1/2" and note that this chair's maximum static load capacity is 330 lbs. It contains anti-loosening screws, which prevent the chair from unwanted loosening and tilting.
Pros
Well-padded backrest and built-in headrest
Luxurious looking upholstered seat
The waterfall edge seat design gives extra support
FAQs
Conclusion
You can keep tuned with us as more details on the SONGMICS office chair review are coming up. This brand believes that comfort comes first for employees, which is why this brand has been striving to make super-quality chairs. Every model launched so far has received immense praise and appreciation from the audiences.
Their chairs instantly relieve neck fatigue, soreness from the back and numbness in the shoulders and inject a spark of energy into the whole body. You can try out this chair as it has a modern and exquisite design and meets the seating needs of employees, no matter how complex and demanding they are! Stay tuned and connected.