Do you know what defines a perfectly designed gaming chair? Here we are going to discuss Razer Iskur gaming chair review. Razer makes versatile and epic chairs for office, home, and gaming use. On this page, you can see what special features are injected into the Razer Iskur gaming chair. It has an ergonomic design and grounded its performance based on the innovative lumbar support system.
Multi-layered leather is used, which makes this chair more synthetic and eco-friendly. The high-density foam cushions let gamers sit comfortably without transferring heaviness or stress into their lower back, legs, or hips. If these details excite you, please go through the remaining information:
Overview of Razer Iskur gaming chair
If your present gaming chair does not bring your body in the perfect posture and injects multiple stress, tiredness, and heaviness into your lower back, it means you must replace that chair with some good-quality option. Have the Razer Iskur chair and re-define your gaming time. This exclusive model is intended for hardcore gamers.
In addition, its ergonomics principles look highly advanced. You catch up with all-day comfort, and the lumbar support system fully relaxes your lower back and hips. Another impressive quality is that the lumbar curve is also fully adjustable. No doubt, this chair is a blend of support and comfort. Its high-density foam keeps the cushions denser, softer, and firmer. You get a plush feel while sitting and receive better contouring as well.
In the same way, the armrests are adjustable, and they are 4D engineered. You can adjust their angle and height and move them forward or backward freely. The Razer Iskur chair allows the user to tailor and customize the position like the way he wants.
Lastly, it has a steel-reinforced frame and supports weight up to 136kg/299lbs. It is high time to up your gaming competition, which is possible if you get a quality chair. Bid goodbye to traditional chairs and try this recommendation on a priority basis. It is popularly known as a posture-perfect chair meant for hardcore gaming sessions. Maintain your prime gaming form and share with us your comments if you use it.
Razer Iskur Gaming Chair review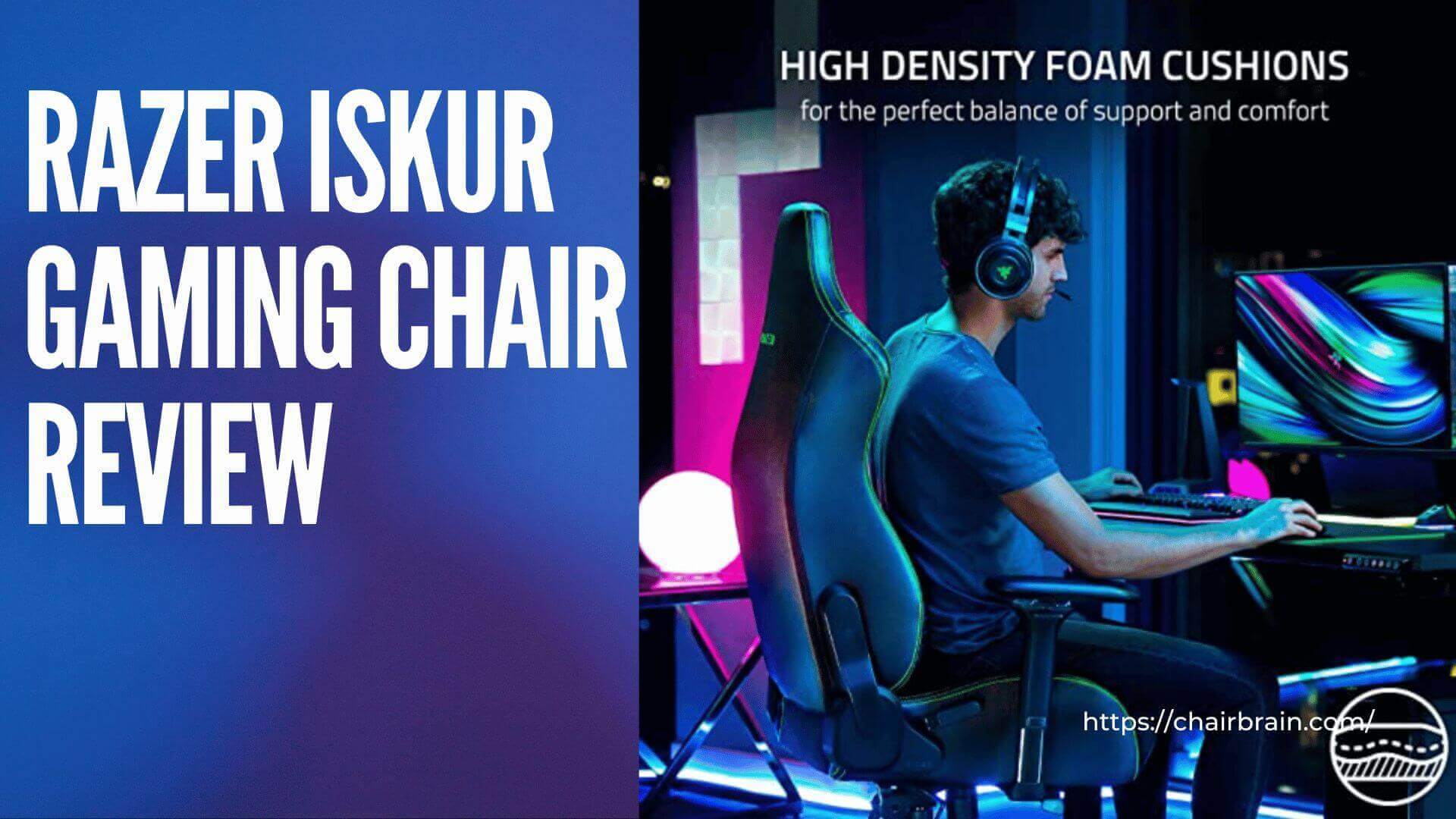 Key Specifications
High-Density Foam Cushions
4D Armrests
Fabrics: Multi-Layered Synthetic Leather
The armrests' height and angle are adjustable
Special feature: Built-in and fully adjustable lumbar curve
USP: Excellent Lumber Support System
Features of Razer Iskur gaming chair
Multiple catchy features are part of this Razer Iskur gaming chair. If this product has appealed to you, it is better to check out its traits in detail.
Lumbar support system
It is a fully ergonomically designed chair, and its lumbar support system works on an advanced scale as well. Gamers have always hunted for a chair that promises to give full-fledged lower back support, and the Razer Iskur chair is one of them.
You can see that it has a built-in, premium, and fully adjustable lumbar curve that manages to align to your spine closely. With such a system, your body enters and moves into the best posture mode, and maximum comfort is experienced. You can play games for the most prolonged sessions because this remarkable and spectacular chair is in front of you.
Multi-Layered Synthetic Leather
Razer has used multi-layered leather this time. This one is a great addition that we have spotted. The usage of leather has made the Razer Iskur chair tougher, stronger, and more durable.
Instead of using a standard and traditional PU leather form, multi-layered leather has increased the demand for this chair. Thus, the whole chair is wrapped in multi-layered leather, and that is why this chair can withstand rough use, wear, and tear and lasts long for months.
High-Density Foam Cushions
This time, the Razer Iskur chair is injected with plush cushions. And this will give the user a soft and relaxed sitting feel. The denser, softer, and more durable cushions give excellent contouring to the person, and he can worry-free play games without hurting his back or waist. These high-density cushions mold your body shape so that you receive perfect support.
4D Armrests
Incorporating 4D armrests has made the Razer Iskur chair a blockbuster hit. You can fine-tune and regulate the height of armrests in any manner and according to your sitting needs. Adjusting the angle of armrests is also not a problem. You can move these armrests forwards or backward; that is all up to you!
After reviewing all these details, this gaming chair will become one of your favorites. Individuals having a height of 5'6″ to 6'2″ must use this chair. It supports weight up to 300 lbs and shows the supreme combination of angled seat edges, wheelbase, maximum resting area, and sturdy frame.
Pros
Ergonomic Lumber Support System
Multi-Layered Synthetic Leather
High-Density Foam Cushions
Cons
No money-back guarantee option
FAQs
How does a gaming chair tilt tension work?
The tensioning feature present in a gaming chair comes in a knob form. You can adjust it to increase or decrease the force which the individual generally needs to tilt. The tilt feature makes it easy for the user to determine beforehand how much he wants his chair to recline.
How to know if a gaming chair is good?
Good-quality gaming chairs have ergonomic quality and are encased with individual adjustment options. They have a plush seat and an S-shaped backrest and are intended to relieve pressure from the back, shoulders, and legs while ensuring all-day gaming comfort.
How to know if your gaming chair is bad?
Various signs tell you have chosen a bad-quality gaming chair. Poorly constructed chairs bring numbness or tingling in fingers, heaviness in legs and hips, discomfort in the neck, and a burning sensation. If it is a premium-quality chair, it will make sure to give all-day comfort and support.
Conclusion