The practice of playing games on a good-quality chair all sounds so great. Sitting on an ergonomic chair will make your gaming experience more relaxed, comfortable, and enjoyable. We have written the Hbada gaming chair review on this webpage comprehensively; you can look at the details anytime.
Note that this brand is renowned for making ergonomic, stylish swivel chairs. Try this recommendation: it has an adjustable headrest and armrest and gives non-stop lumbar support. The rest of the details on the Hbada gaming chair are written below:
Overview of Hbada Gaming Chair
Many gamers have complained that their back hurts. This happens when you use poorly manufactured chairs. Try getting your hands on the Hbada gaming chair. It is great for spinal health, eliminates pressure from your back, and helps you achieve flexible and effective support. Its S-shaped backrest smoothly hugs your spinal curve, and you can play games for maximum duration.
Furthermore, this reviewed chair has a separate waist pillow as well as a headrest. Your neck and waist will stay relaxed in the best possible manner. 155-degree reclining mode and 17-degree rocking mode keeps the gamer at peace and calm phase. With its use, the sedentary pressure will be relieved, and the leather used remains soft to the touch and 100% wear-resistant.
The brand has used native elastic sponges to give durable support to the user. Rest, its one-piece steel frame withstands maximum weight and assures to give a longer usage time. The presence of flip-up arms makes the Hbada gaming chair the most versatile chair. These arms are meant for position reinforcement and give the utmost freedom to move your arms however you want.
Do you feel like using this ergonomically designed chair? Yes, you should be! It is comfortably padded, and the seat has indents that bring the gamer in a good posture. Lumbar supports prevent lower back pain, and 8-cm fully integrated high-density foam prevents the seat from deformation even if you sit on it for a long period.
The fully-wrapped cushion improves the sitting experience, relieves heaviness or stress on the tailbone, and provides the highest comfort level. Thus, the Hbada gaming chair is a must-have gaming chair that is light enough, portable, and perfect for all levels of gamers.
Hbada Gaming Chair REVIEW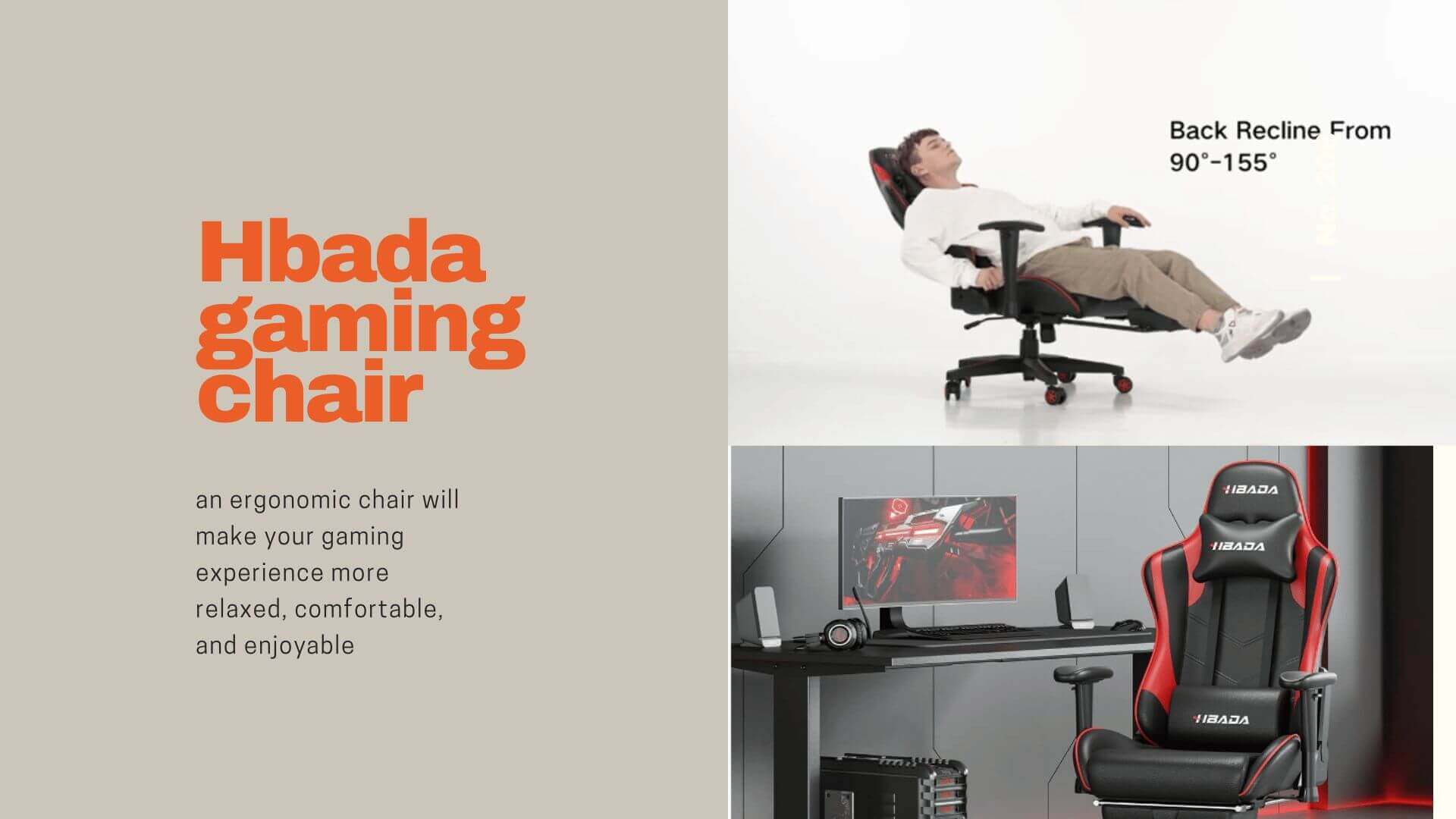 Key Specifications
SGS Certified 4-Level Cylinder
Gaming chair
Ergonomic, thicker Backrest and adjustable Headrest
Strong and integrated Metal Frame.
360-degree Rotation
USP: The S-shaped backrest ensures good spinal health
Features of Hbada Gaming Chair
Gaming is fun, but you can make this activity more enjoyable using a premium-quality chair. So, why not try out the Hbada gaming chair? Yes, you must do that! Below we have written important features about it; you can see the details:
Thicker Backrest and Ergonomic Design
This Hbada gaming chair has a thicker backrest and ergonomic design. The seat cushion is so soft that your hips will not feel tired even if you sit on this chair from morning till evening. The lumbar pillow and headrest are adjustable and ensure to give the strongest support to your back and neck.
Lockable at Any Angle
This chair gets locked at any angle! The recommended angle range is from 90 to 155 degrees. Once you have locked the angle, the amplitude reaches 20 degrees, and the armrest height is adjustable up to 2.75''.
High-Quality Construction
The brand has claimed to emboss a high-quality construction concept in this gaming chair. Its metal frame is strongly integrated, keeping the chair stable and balanced. The heavy-duty nylon base withstands 330 lbs of weight.
Rest, it is made of PU leather material which is easy to clean, wear-resistant, and dirt-resistant. And the presence of the SGS Certified 4-Level Cylinder makes the sitting time more pleasant.
Wide Range of Uses
The Hbada gaming chair can be used for multiple occasions. You can have it while playing games, doing office work, reading a book, or napping. It meets all multi-faceted needs, which is an impressive thing.
Flip Armrests and Fuller Cushion
The injection of 90-degree flip armrests supports your arms without stressing or discomforting them. Besides, the fuller cushion looks innovative and is 100% upgraded. The brand has used a high-quality leather cushion to give more comfort to the user. It has a slightly concave design and guarantees to bring the person to a relaxed sitting position.
Safety Guarantee
Lastly, safety is guaranteed if you use the Hbada gaming chair. It has five-star feet, and the load capacity, which it can easily bear, is 330 lbs. Its wheels do not scratch the floor because they smoothly roll on any surface. And this same gaming chair has a 3-stage pneumatic lever, offering 90 to 120-degree tilt tension and 360-degree rotation.
Pros
Thicker backrest and adjustable headrest
The lumbar pillow gives stronger support to the neck
Integrated Metal Frame and Heavy-Duty Nylon Base
FAQs
How to fix a gaming chair from tilting?
You can fix the gaming chair from tilting by tightening loose nuts and screws. If any screws or bolts are missing, get new ones and insert them where they are needed. Once you have fixed the issues, test the chair to know whether it needs further tightening.
Do gaming chairs offer good lumbar support?
Yes, gaming chairs offer good lumbar support. They are a great option for your back, neck, shoulders, and legs. If you game for longer periods, using a good-quality gaming chair is a must, as they claim to give enough back support and straighten your body posture.
How to remove rust from a gaming chair?
You can remove rust from gaming chairs by rinsing the specific area with vinegar. Let the vinegar sit on the affected part for 10 to 15 minutes, and scrub the rust with a metal bristle brush.
Conclusion
What else do you want to know about the Hbada gaming chair review? You can forward your questions, and we will answer them on time. Stay tuned to learn more about high-end gaming chairs.