KERDOM office chairs are to die for. They are known for their classic designs, delivery of comfort, and meeting all ergonomic sitting needs. If you are still wondering what is unique about these chairs, check out the KERDOM office chair review. Modern ergonomics and a modest price- that is what this chair is valued for.
It is a task chair packed with a sleek design and delivers maximum comfort to every inch of your body. You can comfortably do hours of work without tiredness. The brand has designed this chair by meeting the goals of functionality and style. Keeping it in your office meeting and conference rooms will make them look more modern.
The five custom adjustments let you adjust the tilt, tilt tension and also height, armrest height, and lumbar. More details are written about the KERDOM office chair; you can check them out:
Overview of KERDOM office chair
The demand for ergonomic mesh back chairs is getting consistently high in offices. Employees feel relaxed and much at peace whenever they sit on ergonomic chairs. For this reason, the KERDOM brand worked day and night and launched some of the best versions of office chairs. So, here we have arrived with the KERDOM office chair overview.
This chair blends ergonomics, comfort, and style. It removes spinal pain, keeps your legs and shoulders active, and improves your sitting posture. Furthermore, the mesh backrest keeps the body cool, and 8cm high-density foam upholstery has been fused with adjustable PU armrests. You get optimal comfort, and that is guaranteed!
It is assured that while you work on this chair, your body will remain super relaxed, and it also improves blood circulation, airflow, and balance, as well as reduce muscle pain. The casters offer great mobility, and you can trouble-free move it on a hard or carpet floor without making noise. Thus, have the KERDOM office chair which has a padded seat and prevents hips and lower back from getting heavy, tensed, or stressed at any cost.
KERDOM office chair review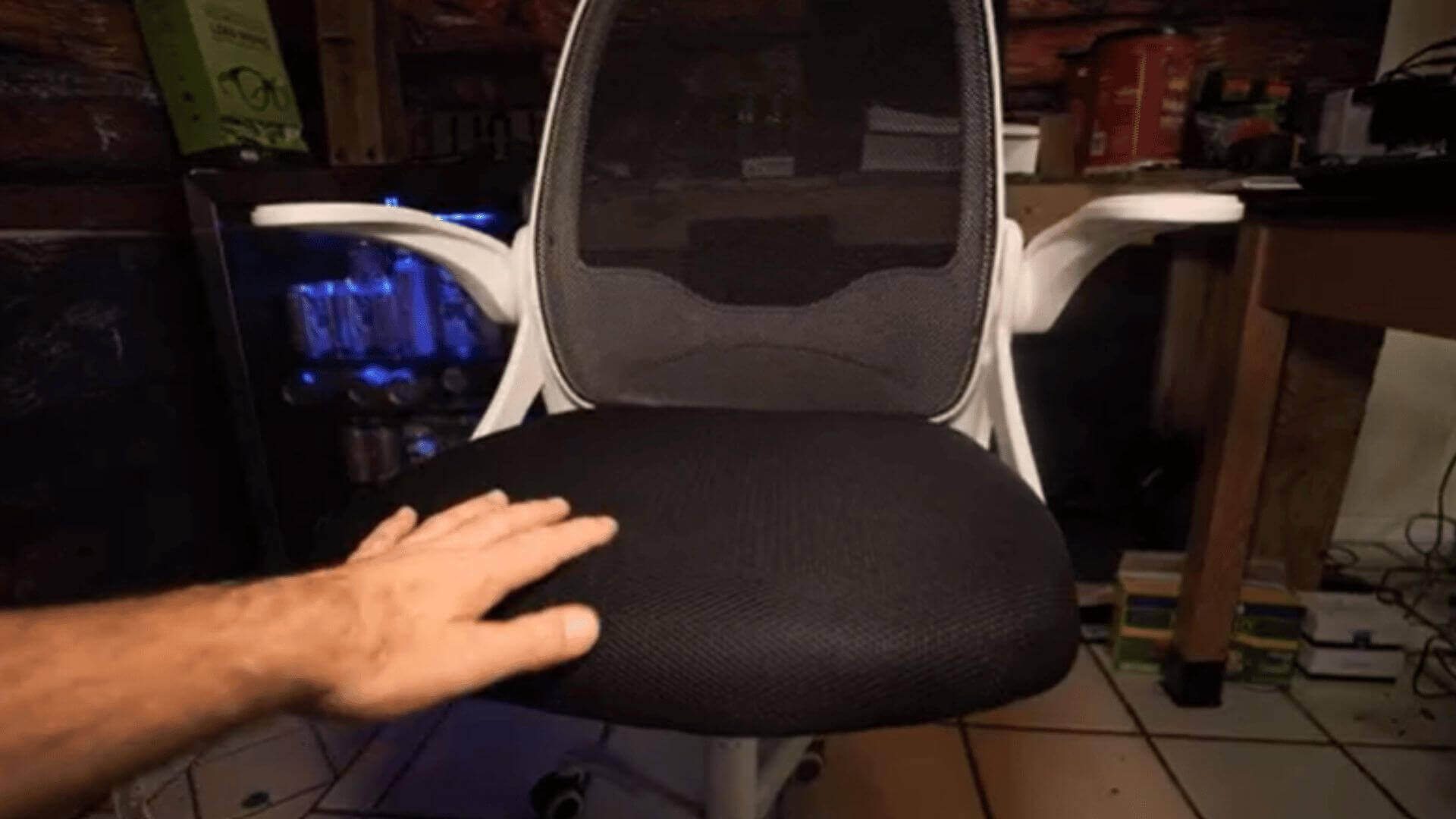 Key Specifications
Human-oriented ergonomic construction
High-density, durable and breathable mesh
Office, living room, and meeting room
Solid rolling silenced casters
Thickened and explosion-proof
USP: Easily disperse pressure 
Features of KERDOM office chair
The world of ergonomic office chairs looks like the biggest and most massive. People get confused when deciding which chair is of the supreme finest quality. But we can help you shortlist the high-end options, and right now, we like you to recommend this KERDOM office chair:
Ergonomic design and quick to adjust
Apart from being encompassed by an ergonomic design, the KERDOM office chair is quick to adjust. You can regulate its settings with regard to height, tilt, angle, and other lock settings. Three support points have been infused this time, and their primary job is to support and ease your hands, hips, and back.
Breathable back and cushion
A breathable back and cushion is its highlighting feature as well. Your hips and back will stay cool, do not produce sweat, and you can comfortably work even if the temperature is humidity filled-one. The induction of high-quality mesh makes this chair more elastic, well-shaped, and steady at the same time.
Fashionable and modern design
Though this chair has multiple healthy sitting benefits, but concerning design, it looks highly modern, fashionable, and elegant. Whether you keep it in your office or home, it will instantly match the decorating theme.
Easy to install
There is no need for professional help while installing and assembling this chair. You can perform this task on your own. Unbox it and assemble it without inconvenience and trouble.
Excellent airflow and deformation, anti-abrasion features
The KERDOM office chair pledges excellent airflow because the brand has used breathable mesh material. Your back will not sweat or stick unwanted. Rest, this mesh office chair is packed with anti-abrasion and deformation features. You can worry-free sit for ten hours without exhausting your back.
Thicker cushion
The cushion of this KERDOM office chair is thicker, fully upgraded, and perfectly fits your hip curves. Besides, the thicker cushion has added elasticity to the whole chair, releases pressure from hips and back, and relieves neck and shoulder pain.
Tilt and lock function
Lastly, this chair has advanced tilt and lock function settings present in it. This way, you get a luxurious sitting experience and bring your body into a comfortable and effortless posture. Employees must use this chair as it functions on the lockable angle mechanism, and you can adjust its tilt between 90° and 120°.
Pros
Adjustable seat height and ensures strong stability
A breathable back and cushion keep the chair well-shaped
You can hassle-freely flip the arms to save space
Cons
It gets out of stock quickly
FAQs
How long do chair gas cylinders last?
The average lifespan of chair gas cylinders is 4 to 7 years. It is the height adjustment mechanism that is generally installed in the chair. The life span of a gas cylinder depends on how frequently you use that chair.
What is the recommended posture for sitting on a chair?
It is recommended to keep a small gap right between your knees back and also a front section of your seat. Adjust the chair in a way that it fully supports your back. You can even place a rolled towel behind your lower back. Keep your head and neck 100% balanced, and they should align with your torso.
Why is the importance of adjustable armrests?
Chairs with adjustable armrests are of prime importance. They ensure good body alignment. You can adjust the width of the armrests to relax your stressed muscles. It is advised to tune the armrests in a way that your elbows remain under your shoulders.
So, what have you decided now? After going through KERDOM Office Chair review, you will agree with us about how great and fine quality this chair is! KERDOM has far better and bigger plans in terms of designing office task chairs. You can keep in touch with us to get updates about those upcoming launches.