Introduction: How to Repair Cane Chair
Do you want to repair your cane chair? If yes, jump onto this in-depth and comprehensive guide and repair the cane chair in one go. No doubt, cane chairs are believed to be one of the unique combinations of strength, workmanship, and artistry.
In this respective chair type, cane strips remain woven together and firmly attached to a bamboo frame. They are, at times, known as wooden chairs. Below you can see the process of repairing them:
Tools you need to repair cane chair
You need machine-woven cane seating material, sharp scissors, a flat-head screwdriver, a paintbrush, wax, and a fine-tipped awl.
If your cane chair has holes and is not looking nice at all, fix them immediately. It is recommended to repair the whole seat instead of fixing those specific holes.
Step 1
The first step is to measure the hole which you need to cover with that matching woven cane material. You must cut a piece that is roughly 3 inches larger in size than the hole. Soak the matching woven cane in warm water for around and about 15 minutes to soften.
Step 2
Press the cane patch between two folded towels. This way, you can remove excess water before attaching it to the seat.
Step 3
The next step is to apply wood glue. Position the patch, which has to be facing upward and right over the hole.
Place the new patch on the top of the cane chair, and you will see that it is going to be bigger than the seat. Cut it to the desired size and make sure that half to one inch should be overhanging on all four sides.
Furthermore, line up the cane pattern. Doing so will match the rest of the cane seat material. Remember to press the patch very gently and lightly into place.
Step 4
Tuck the ends of the cane patch material right under the existing cane chair seat. Moreover, properly conceal the ends, which can be accurately done with the help of a flat-head screwdriver or small awl. Let the glue get completely dry, and apply more glue if there is a need.
Step 5
If you notice that the new cane patch is not matching perfectly with the existing patch, what you can do is brew a very strong cup of black tea on the new patch. It is assumed that this hack will blend the new patch with the original and existing cane patch with 100% perfection.
Step 6
Allow the black tea to seep in, and repeat this hack until and unless the patch blends in wholly. It is assumed that 24 hours is needed to let the stained cane seat dry.
Step 7
Wax the spline as well as the entire cane chair seat. In this way, you can thoroughly protect the surface from any kind of spills and staining.
That is all! You have successfully repaired and fixed your cane chair.
Tips to keep in mind when repairing a cane chair
If you have planned to repair the cane chair, make sure its frame is in excellent and sturdy condition. You can only restore your cane chair with no error if the structure is in good condition.
Patching woven cane chairs is just a temporary fix. If the damage looks severe, replacing the seat and getting a new one are advised.
Reweaving a cane chair seat is easy. The whole process takes approximately 12 to 16 hours. Weave the cane strips vertically and do the sideways pieces later on. Besides, weave the diagonals in both directions. And remember to tuck in all loose ends.
When adding the wood glue, you need to remember that wood glue should be applied to the straight sides of the cane chair eat. Avoid applying it to the rounded corners.
When attaching the new spline, you must start at the centre and press it properly into the groove. It is suggested to use a hammer while performing this step.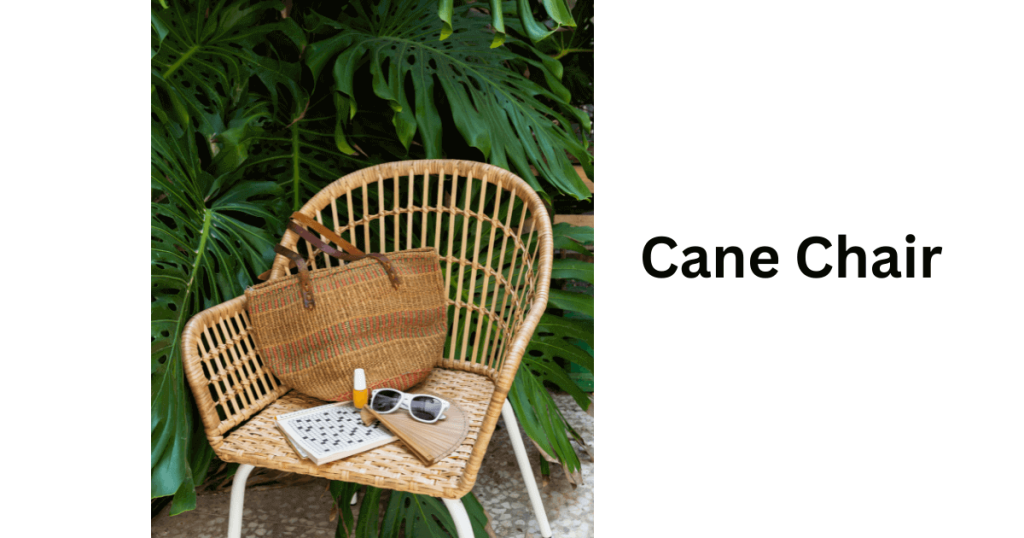 How to care cane chair?
If you take the best care of cane chairs, they will generally last for ten years. Yes, that is true! Below you can check out some of the essential tips and see what the right way is regarding taking care of cane chairs:
Removing moisture from them is recommended to fix sagging cane chairs. Leave the chair under the sun to dry. You will see that as soon as the water is going to evaporate, the cane chair will get tight, shrink, and no longer looks sagging.
Keeping your cane chairs free of dirt, dust, and grime is recommended. Eliminate every mold and mildew growth from them.
Avoid sitting on the seat for 48 hours if you have cleaned and washed it.
Treat your cane chair in the best possible way, and that is done by heavily moisturizing it. You can use a spritz with oil, or you can also use glycerin-based soap but make sure it should be diluted in water.
Keep your cane chairs away from moisture, humidity, and heat. Use good-quality furniture polish. This will help you rejuvenate and refresh your cane furniture piece effortlessly.
Some prefer polishing their cane chairs with orange, mineral, or lemon oil. These oils protect the cane and make it last long for years.
It is also seen that polyurethane promises to protect and fully secure cane furniture from wear and tear. You can have it in oil- or water-based form; the choice is yours. Polyurethane adds durability regardless of what cane furniture piece you have!
Conclusion
If you have damaged cane chairs and want to fix and repair them on your own because hiring a professional is not within your budget, follow the above-written guide! All the basic details on how to repair cane chair are mentioned above. For more information, keep tuned and connected over here.