Introduction: How to Reupholster a Wing Back Chair
Wing back chairs look classy, stylish, and extremely trendy. If you have a bunch of wing back chairs and their look has become outdated, you can reupholster them instead of buying a new set. Just drape and cushion them with a new fabric, giving them a new look.
Since the 17th century, these chairs have been considered classic and epic furniture pieces. Undoubtedly, they are the most beautiful accent chairs that increase the value of your home. If you have planned to reupholster them, choose the best quality fabric. The fabric choice can make or break the wing back chair's look. The remaining details are penned down below:
Tools you need to reupholster wing back chair
You need 9 to 10 yards of fabric, an upholstery staple gun, an air compressor hose, pliers, a staple remover, a sewing machine, a webbing stretcher, and cotton piping.
Step 1
The first step is to dismantle the wing back chair. Remove the dust cover and take off the bottom cording. In addition, eliminate every part of your chair fabric, including the upper and side parts.
Remember to remove the webbing, burlap, and springs. It is recommended to use pliers, scissors, and also a staple remover so that you can easily break down the parts of the wingback chair.
Step 2
Measure the chair and carefully determine how much fabric and webbing are needed. You can hassle-freely install the new webbing right at the front with the help of a webbing stretcher and a stapler.
Step 3
The next step is installing the springs on the wingback chair seat. Take out the old springs and tie the new ones altogether.
Besides, use coconut fiber for filling and covering the springs. Get the burlap and make sure to nail it properly in the frame. You need to sew it again to make it secure to the springs.
Step 4
Take proper chair measurements and create a pattern that syncs well with the wingback chair design. Bring all the burlap pieces on the chair and measure all the areas you will cover with the fabric. Cut the fabric and place it on the chair to see if it needs further cutting and changes.
Step 5
You can now start sewing the fabric. Remember to pull the fabric tight and then staple it. Once you are done, remove unwanted fabric, stitches, and staples.
Step 6
You are done! A new cover is reupholstered on the chair.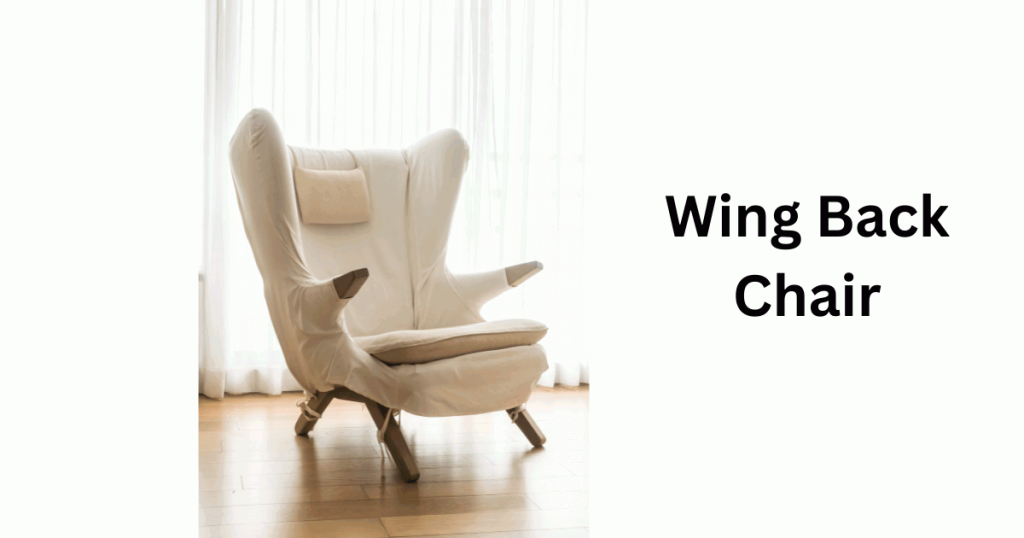 Why reupholster the wingback chair?
People prefer reupholstering their wingback chairs because of many reasons:
Refurbishing the old chairs is a cost-friendly project. Buying a new chair set, the cost will get super high. And refurbishing and reupholstering old chairs is a budget-friendly decision that you must go for.
Draping the old chair with new fabric on your own gives you maximum freedom regarding styling it. You can style and design the chair to look how you want.
People who reupholster their old chairs always look more unique, customized, and personalized than chairs available in shops.
Important points to keep in mind
The popular upholstery fabrics used on wingback chairs are cotton, natural linen, flat woven fabric, velvet knit, and chenille. Overall, cotton is the most suitable fabric for draping chairs. It is easy to sew too.
You can go on having heavy-duty synthetic microfiber forreupholstering chairs. Such a fabric claims to be stain-resistant as well as easiest to care for. You can have it for draping often-used sofas and extremely old chairs.
Your old chair must have large brass rivets embossed on it. It is advised to take them off very carefully. In addition, these are located along lines where the chair fabric is stapled. You can remove them only one at a time. If they are in good shape and condition, reuse them.
If your wingback chair foam looks old, replace it too. You might have spotted many types of upholstery foam. This foam comes in three densities. If you are getting it in black or dark blue form, it is assumed to be the densest and stiffest. The purple foam seems medium, and light or baby blue foam looks the softest.
Most importantly, foam thickness completely depends on where to install it. The foam in the seat or cushion should be 2 inches thick. The foam on the chair's back and arms should be no more than 1 inch thick.
When embossing new foam into the wingback chair, compress it as much as possible. You can use blocks, clamps, or books; they act as a great help to compress the foam quickly.
What kind of tools you must use to reupholster wing back chairs?
If you have been given the job of reupholstering and refurbishing an old chair, it is mandatory to use the right tools. Get the sharpest tools and conduct the upholstery job smoothly and faster.
The crucial tool that you need is a staple puller. It is a small tool but plays a critical role. It will help you remove hundreds of staples, rearrange errant staples, and install the new fabric.
Furthermore, the other vital tool you require is a pair of sharp diagonal pliers. It is seen that staples often break, and it is only with the help of diagonal pliers that you can get them out.
Invest in an upholstery staple gun. It is the essential tool whose main job is to hold the edges of tight and thin fabric. No tool can hold the fabric with perfection and accuracy, as done by an upholstery staple gun.
Conclusion
So, what are you waiting for? Please take out your old chairs and reupholster them most uniquely and creatively. Feel free to share your ideas about how a wingback chair can be perfectly refurbished. Stay connected with us on this page.