Introduction: Hbada Ergonomic Office Recliner Chair Review
We are going to discuss Hbada Ergonomic Office Recliner Chair REVIEW in this blog post. Many recliners are available in the market, but very few have fulfilled the quality standards. Hbada brand has set a benchmark in making exceptional quality chair recliners. We have penned an honest and unbiased Hbada chair review; you can check the details.
This reviewed chair offers multipurpose use. You can keep it in your living room, gaming room, or bedroom, and when it comes to office use, freely keep it in the meeting, conference, or any other room. Below you can see what features make the Hbada chair stand out from others:
Overview of Hbada ergonomic office chair recliner
Firstly, the Hbada chair eases heaviness and strain on the back. Its backrest covers your body curves in a way that you notice extreme relaxation and stress-free sitting time. Furthermore, the S-shaped backrest supports every inch of your spine and allows the individual to work, read, nap, or play games on this chair for the longest hours. It provides 155-degree tilt adjustment and meets all sitting needs.
Remember that when it comes to an office chair, it should have an ergonomic design, and the Hbada chair is definitely among the top-most picks. It gives maximum lumbar support, which an individual generally needs for all-day working and studying. It brings your body to the perfect sitting posture, relieves stress, and decreases fatigue and tiredness out from your body.
People whose job demands long-time sitting must get this Hbada chair. Its curved backrest design lines up, hugging the human body's natural spine curve and continuously giving lower-back support.
It is time to stop using low-quality chairs in your office and home and replace them with a high-end option. The Hbada chair gives long-lasting comfort and its high-density sponge seat brings down pressure on the hips. You experience sufficient seat depth and comfortably sit for extended hours without noticing heaviness or pressure on your hips.
The breathable mesh back allows 100% airflow. And the person stays cool and sweat-free for a long time. You can adjust the seat height, and the user-friendly pneumatic controls make it easy for the individual to raise or lower the seat height in one go. What you need to do is simply pull the lever and set the seat at a desired height.
Lastly, heavy-duty metal base, smooth rolling casters, and 360-degree rotation prevent the floors from getting scratched. Undoubtedly, it is an excellent quality chair that you can have in your office. You can order it and give us your feedback and comments about Hbada ergonomic office recliner chair review
Hbada Ergonomic Office Recliner Chair Review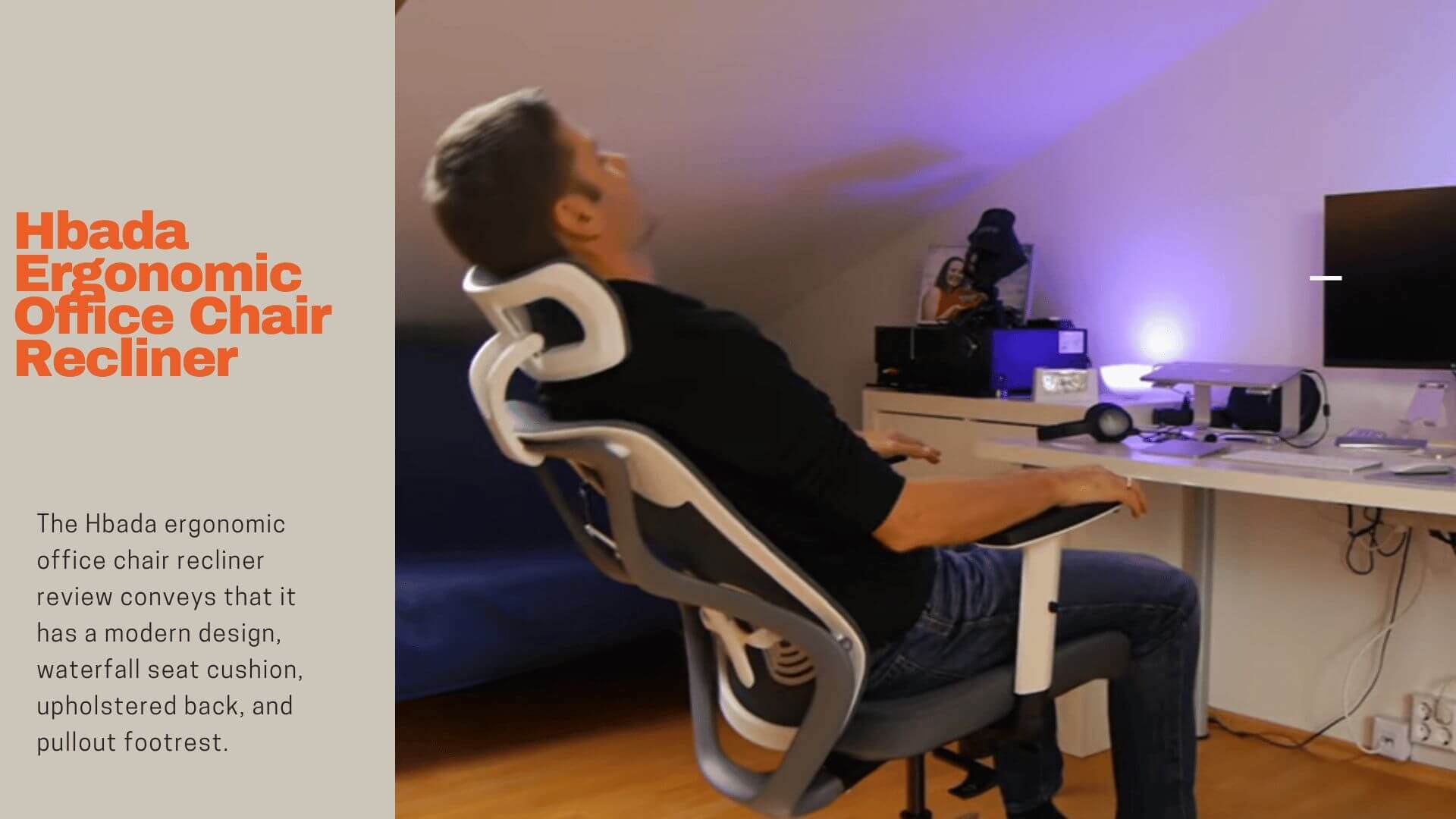 Key Specifications
5-star silenced wheeled base
Comfort: Fully upholstered back and pullout footrest
Steel frame construction
Rotatable design
Special feature: Waterfall seat cushion
Brings the person into an ergonomic sitting position.
Features of Hbada ergonomic office chair recliner
Let us talk in detail about the Hbada chair features:
Ergonomic recliner
This reviewed ergonomic recliner functions on the synchro tilt mechanism. It reclines your backrest so you can comfortably work multiple hours without stressing it. The angle between your thighs and torso increases, and the person remains super comfortable.
Multiple height, tilt, and lift settings
Besides, the Hbada chair has multiple lock, height, tilt, and lift settings. You can adjust it according to your seating requirements. Simply determine your best sitting position and adjust the chair's height and tilt.
Waterfall seat cushion
The Hbada chair has a waterfall seat cushion that primarily aims to reduce leg stress and tiredness. The cushion has been sloped downward and brings your exhausted legs at ease. Other features include built-in lumbar support and a fully rotatable headrest. With all these great qualities, you will move in the right sitting posture without discomforting your neck and waist.
Breathable mesh
This one is a contemporary-styled chair with breathable mesh that successfully promotes airflow and circulation. Your back remains sweat-free, 100% cool, and highly comfortable, and you can peacefully work during long hours while on this chair. Rest, it has a fully upholstered back, height adjustable settings, and a pullout footrest.
Durable frame
The Hbada chair is injected with a durable frame. You will spot 100% steel construction in the framing. Beyond, the 5-star silenced wheeled base lets you move the chair from one place to another quickly on any surface. It is tested to support weights up to 250 lbs.
Top Pick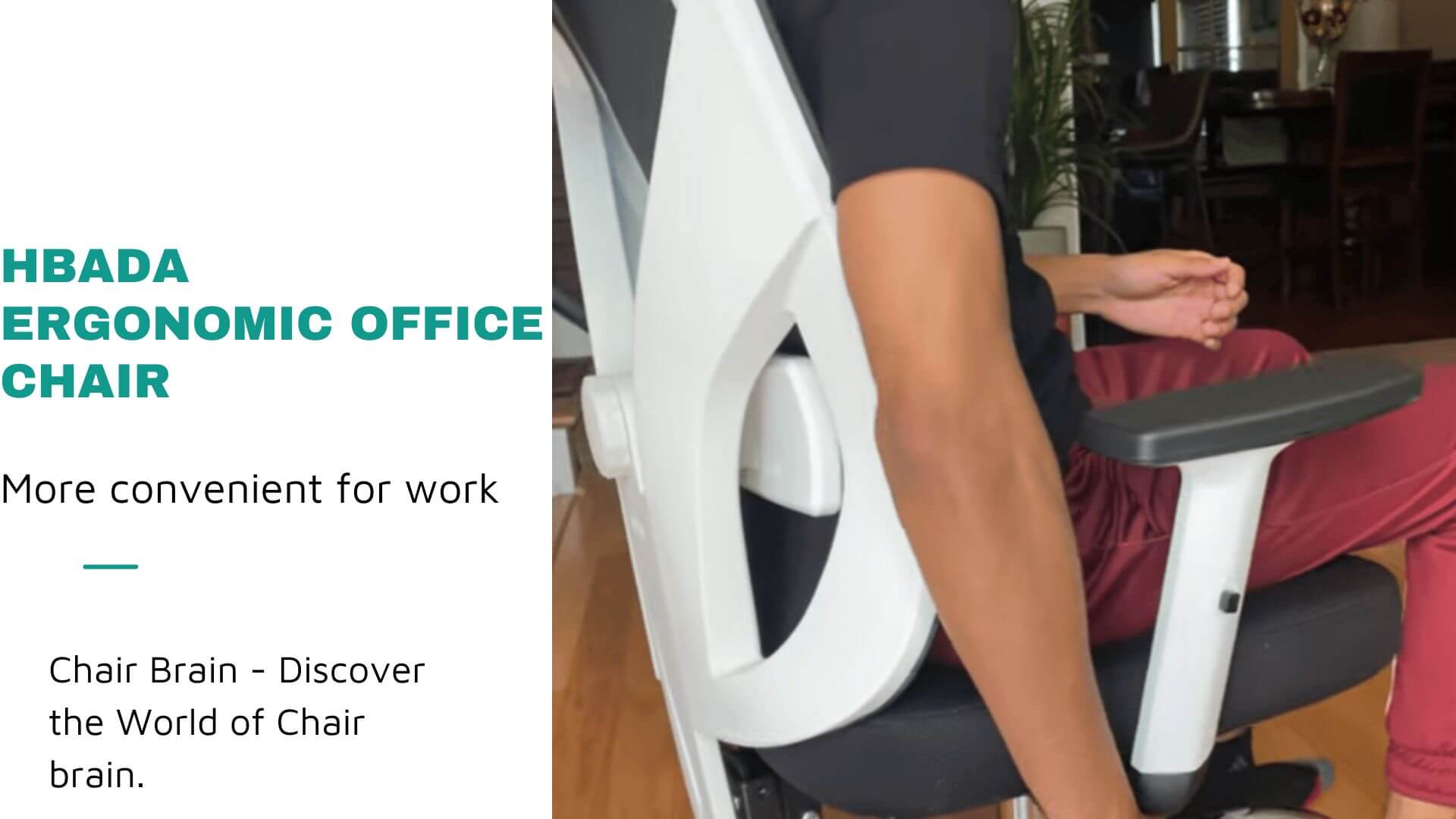 Pros
The synchro-tilt mechanism reclines the backrest
The individual enters into an ergonomic sitting position
Waterfall seat cushions reduce stress on the legs
FAQs
How to maintain an office chair?
You can maintain an office chair by regularly cleaning and oiling its parts which often become rusty. Vacuum and dust off the chair. Wipe it with soap and water solution. In addition, you can spot-treat stains with the help of a good cleaning agent or rubbing alcohol,
What is the average lifespan of office chairs?
The average lifespan of office chairs ranges between seven to eight years. However, durability and lifespan vary depending on the materials and construction techniques used to make that chair. High-end brand chairs generally last longer than brands that manufacture low-quality chairs.
What do you mean by synchro tilt mechanism?
Synchro-Tilt Mechanism allows the chair back and seat to move smoothly in a synchronized way. In other words, it moves in a 1: 2.5 ratio! A 1-degree inclination of the seat corresponds and syncs to a 2.5-degree inclination of the backrest.
Conclusion
That is all the end of the discussion on the Hbada ergonomic office recliner chair review. So, what have you thought now? Chairs like these should be placed in every home and office.
Hbada chairs are known for their excellent performance. They have centered their operations on thesynchro tilt mechanism, offer lumbar support, and ease pressure on the hips, lower back, shoulder, and arms. Your body moves into an ergonomic sitting position, and the waterfall seat cushion reduces heaviness on your legs. Stay connected!