Introduction: What Age can a Baby Go in a Bouncer Chair
Almost every parent prefers baby bouncer chairs. Their primary purpose is to calm and soothe babies. Babies who are between 3 to 6 months of age can use bouncer chairs. It is the appropriate age bracket so far.
In addition, door bouncers are meant for babies under the age bracket of 6 to 18 months. Though it is for a short period that bouncer chairs are utilized, babies still love them. The only thing to remember is that as long as your baby is in a bouncer chair, opt for necessary precautions and the right supervision. Below you can see further details:
In which age bracket can babies use bouncer chairs?
As mentioned above, 3 to 6 months is the average age bracket in which babies can enjoy their time in a bouncer chair. They are entirely safe and sound for your baby. Furthermore, they are designed to soothe and pacify a crying baby. They have angled seats and come with a stationary frame. Straps or restraints are used to ensure the baby's safety. The seat is going to bounce whenever the baby is going to move.
Whether you want a manual bouncer or one powered by a battery is up to you. Battery-powered bouncers make the seat bounce automatically. Other models include toy bars, music features and built-in vibration. These bouncers are so lightweight that you can carry them from one room to another.Thus,bouncer chairs are safe and secure for babies. If your baby falls in the age range of 3 to 6 months, you can get a bouncer chair.
Precautionary measures when using a bouncer chair
You must keep in mind these precautionary measures whenever you baby sits on a bouncer:
Avoid leaving your baby in a bouncer for more than 20 minutes. Do not exceed this limit.
During this time duration, you need to be always nearby your baby.
Double-check whether the straps are snug or not. If they look loose, tighten them.
Straps should not interfere with your baby's breathing mechanism.
Avoid letting your baby sleep in the bouncer chair.
It is not recommended to swing the bouncer at high speed.
Never keep the bouncer on any higher surface. Like, you should not keep it on a counter, couch or table.
You must buy a bouncer chair which has a baby skin-friendly fabric. You can have it in options like airy mesh and quilted cotton. Some bouncers are made of supersoft 3D Jersey or cotton-jersey mix. Overall, the fabric should be safe for the baby's skin as well as safe to taste.
In which age bracket should babies not use bouncer chairs?
Babies under 6 to 18 months should not use a bouncer chair. Or there is another general rule that you should keep in mind. As soon as your baby starts sitting or the baby's weight becomes more than the bouncer chair's, stop using it. Those babies whose weight is more than 20 pounds and they will sit in a bouncer, it will shake unnecessarily. Moreover, there is a risk that your baby will fall.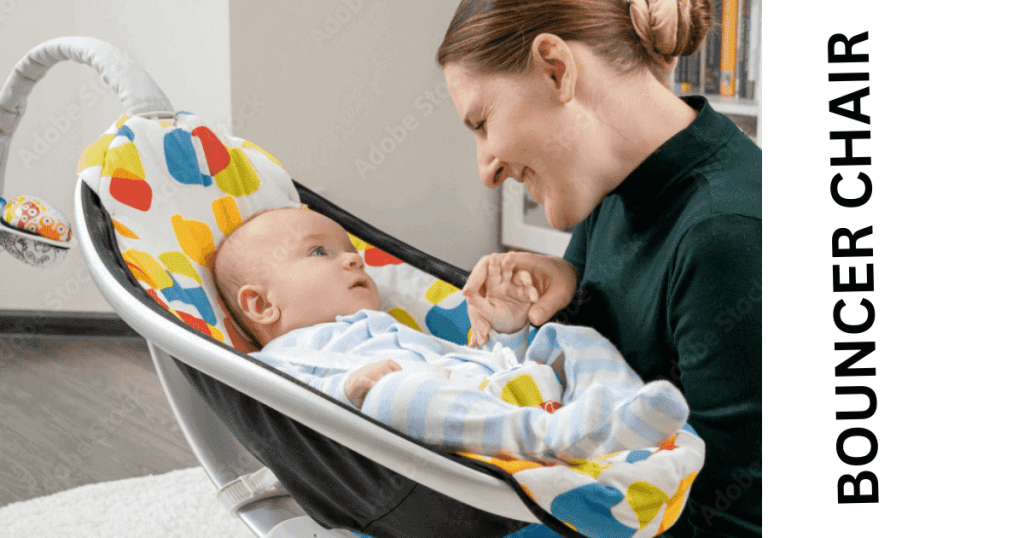 Benefits of using a bouncer chair
Below you can see the details of what benefits are offered by bouncer chairs:
It is the best spot where your baby can play and rest
Babies of 3 to 6 months, their love for bouncer chairs are going nowhere. They love spending time on bouncers. It seems to be the best spot where a baby can play and rest for a short period. Besides, it is a fun and cozy place where a baby learns to sit and jump.
Bouncing movements soothe and pacify the baby
Bouncer chairs are meant to calm, soothe and pacify the baby. The bouncing movements bring an enjoyable experience. If your baby cries a lot and it becomes impossible for you to quiet him, here bouncer chair can help you out. These bouncers make your baby's arms and legs jump.
Your baby learns how to make little movements with arms and legs. Thus, bouncers bring a soothing effect due to their natural rocking movements. It is the best pick for fussy babies. Parents can now entertain their crying babies without putting much effort.
Bouncer chairs develop baby's muscles and improve his motor skills
Bouncers develop the muscles of babies. Chairs like these play a fundamental role in growing and naturally maturing your baby's muscles. When you make your baby sit on it, it bounces his arms and legs and creates the most natural swing.
Furthermore, it aids in crawling, and your baby's motor skills significantly improve. Bouncers stimulate balance and overall coordination of your baby and ultimately become his biggest source of fun and excitement.
Bouncer chairs give optimal support to your baby's head, neck and back
No doubt, almost all bouncer chairs are ergonomic design. They let your baby safely bounce and jump, do little arm and leg movements, and worry-freely play and rest. They promise to give optimal support and balance to your baby's head, neck and back.
Medical specialists even support their use. The fitted fabric seat manages to distribute the weight evenly. And many bouncer chairs offer three different positions. You can adjust it according to the age bracket of your baby.
Conclusion
Thus, bouncer chairs have arrived as a lifesaver for parents. They bring both parents and babies in a win-win situation. If you notice that your baby cries and makes a lot of fuss, especially during the age bracket of 3 to 6 months, then make him spend some time on a bouncer chair. You will see a noticeable difference!
Bouncers soothe and pacify the baby, are a great source of fun and entertainment, stimulate your baby's balance and motor skills and develop his muscles. We have tried to cover this topic what age can a baby go in a bouncer chair and have given you some knowledge stay tuned with us to get more updates on bouncer chairs.